Dreams Start Here: Welcome to The Arc
serving Jefferson, Clear Creek & Gilpin Counties
Founded in 1961, The Arc – Jefferson, Clear Creek & Gilpin Counties is one of more than 700 chapters of The Arc across the United States. More than 140,000 members strong, we are a part of the largest national organization of and for people with intellectual and developmental disabilities (I/DD) and their families, promoting and protecting their human rights and actively supporting their full inclusion and participation in the community throughout their lifetimes. We foster respect and access, giving people with I/DD the power to achieve their dreams. Be part of a strong, powerful movement that is changing the lives of people with autism, cerebral palsy, Down syndrome, and other developmental disabilities. Join now.
Although it's our most well-known program, advocacy isn't all we do. Click here to see how The Arc's programs are making our community stronger.

The Arc hosts a variety of events to build community, increase awareness, and raise mission-critical funds to support our programs. Check out what's going on!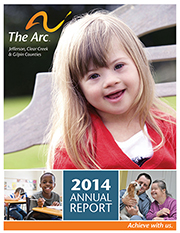 The Arc's 2014 Annual Report is Here
We have captured the essence of all The Arc does in an Annual Report detailing our activities in 2014. We had a tremendous year and hope that you, too, are proud of what we have achieved together. Click here to download the report.