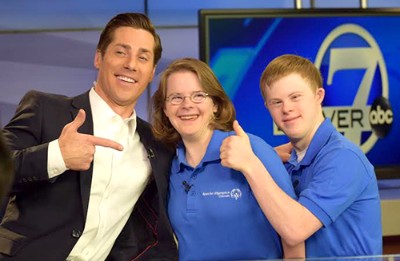 2016 SPARC Award Winners
Advocacy: Ken Berry
Ken has devoted the last 30 years helping individuals with I/DD gain independence in the community.  His smile and words of encouragement has not only affected the people with whom he works, but changes attitudes in the community about full inclusion and respect for everyone.  
Employment: Lucha Cantina
Lucha Cantina's employment practices may not seem extraordinary, but in fact they are.  They work hard to create an inclusive environment for all employees and treat individuals with I/DD no differently than anyone else who asks for a job or works at the Cantina.
Education: Inclusive Higher Education 
This exceptional program creates a clear pathway for higher education for students with I/DD, creating an inclusive educational environment and giving individuals disabilities the ability to compete for jobs. 
Community Champion: Pamela M. Kerr, CPA, CFE, FCPA
Through the donation of her time and forensic accounting skills, Ms. Kerr was able to conclusively prove that more than $9,000 had been stolen from the self-advocacy group Speaking For Ourselves Colorado.  Her report ensured a successful prosecution of the perpetrator. 
Community Champion: Deputy District Attorney Rachael Powell
After Ms. Kerr was able to uncover the theft, it was Deputy DA Powell who prosecuted the case and ensured that SFO members received justice.  Without her commitment to people with I/DD, the case may have gone unnoticed due to the "small" amount of money that was stolen.
Community Champion: Denver's Channel 7 (ABC Affiliate)
Thanks to the Denver Channel's engagement of Hannah Atkinson and Connor Long as reporters, the community now knows exactly how much people with I/DD can achieve.  Each weekend, thousands of people's perceptions of people with disabilities are changed for the better.