Rocky Mountain Partners AKtion Club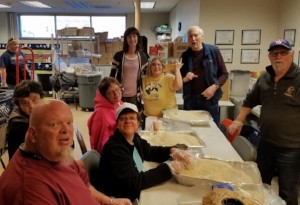 AKtion Club is a Kiwanis-sponsored club that meets the first and third Wednesdays each month. As part of the Kiwanis mission to support children, self-advocates join with other Kiwanis members on a variety of service projects that benefit nonprofit organizations in our community. One of their signature projects is re-packaging dry goods for distribution to people served by The Action Center, a nonprofit serving homeless and low-income individuals. 
AKtion Club is a great opportunity to help people who are in need and feel great about it!  Members get to learn about the numerous nonprofit organizations in our area and how they help others, and members can also connect with the larger Kiwanis community. Give AKtion Club a try—make new friends while making a difference in people's lives!
Rocky Mountain Partners AKtion Club meets the first and 3rd Wednesdays of the month, and focuses on helping others in need in our community.
For more information about the club, call (303) 232-1338 and ask for Valerie, or send an email to valerie@arcjc.org. 
Click here to visit the Rocky Mountain Partners AKtion Club Facebook page to get in touch with us and to see all that's happening!
---
Monthly Club Meetings - 4:00 to 5:00 PM at The Arc
Monthly Service Meetings - 4:00 to 5:00 PM (Location varies)