Celebrating the lives of people with intellectual and developmental disabilities is easier than ever with this handy list of things you can do to help spread awareness. Don't forget to encourage your family, friends, coworkers, fans and followers to do the same. What are you waiting for?

Make Your Support Visible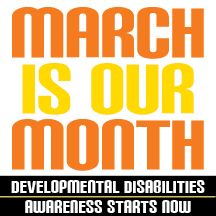 Swap your profile picture. Make our online community visible by changing your social media profile pictures to the March is Our Month badge at right.
Post this as your status on Facebook at least once during March. March is Developmental Disabilities Awareness Month. Help me celebrate the contributions of all people with autism, cerebral palsy, Down syndrome and other disabilities by reposting this as your status this month. Learn more at www.arcjc.org
Tweet this. March is Developmental Disabilities Awareness Month. Know someone w/autism, Down syndrome, etc? Celebrate people. www.arcjc.org #ddaware
Listen and share. Follow The Arc on Facebook and Twitter and repost our daily updates to your friends and followers.
Tell us what you're doing. Got a great idea to spread the word? Post your activities on the wall of our Facebook page. We're listening!
Write a blog post in March about someone you know with an intellectual or developmental disability and how they have inspired you. Encourage your blogger friends to do the same.
Print this poster. Download and print this poster and hang it everywhere. Tell people who ask what awareness means to you.
Change your desktop picture, screensaver, or cell phone background. Download and save this picture anywhere your friends might see it. Tell people who ask that you're celebrating people with intellectual and developmental disabilities.

Watch & Share
Learn more about the individuals and families whose lives are impacted by The Arc. Watch these videos and help spread awareness by sharing these videos with your social networks. Click here to watch now!

Start A Conversation
Invite The Arc to make a presentation to any groups or clubs you belong to, such as service clubs, church groups, or book clubs. We can customize our message to fit each group's needs. Contact Valerie Smith at (303) 232-1338 or valerie@arcjc.org for more details.
Take time to talk to your children that disability is natural. Encourage understanding, respect and friendships. Not sure how to answer a question yourself? Contact The Arc for answers.
Contact your legislators and local policymakers to let them know you expect them to promote and enact policies that benefit people with intellectual and developmental disabilities.
Attend  campaign events and let candidates know how to earn your vote. Help us educate candidates about the issues concerning people with I/DD. Learn more about public policy that impacts people with I/DD and then write letters, email, and go to campaign events to tell the candidates what you expect them to do to earn your support.
Talk to your employer about their practices for recruiting and hiring people with disabilities. Many employers don't realize just how much an employee with I/DD can contribute to the workplace. Tell them.

Connect with a Welcoming Community
Become a member of The Arc. A larger membership means a louder collective voice will be heard by legislators and key decision-makers. We need your support to ensure that people with I/DD have the opportunity to achieve their dreams. Join now!
Connect with someone new. Expanding our social connections is important for everyone, especially adults with intellectual and developmental disabilities. Contact Jeanne Weis at (303) 232-1338 or Jeanne@arcjc.org for more information.

Recognize Those who Support People with Developmental Disabilities
Watch movies and TV shows that positively portray actors with disabilities and discuss them with your friends and family. Several shows currently feature actors with Down syndrome, autism, and other disabilities. Contact the networks and thank them for including people with I/DD.
Support businesses that employ people with disabilities and make sure they know you noticed. Take time to tell a manager how they've earned your business.