Advocacy helps woman chart a path to independence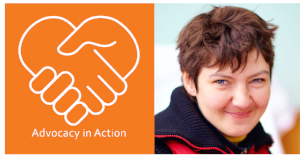 Like other single young women in their 20s , Jessica* wants more independence. She wants to live on her own, go to work, and hang out with friends.
Unfortunately, Jessica's goals have been curtailed by something difficult to talk about: caretaker mistreatment, abuse, neglect and exploitation.
Because Jessica has a dual diagnosis of both mental health challenges and developmental disabilities, her father, Joe, pursued and acquired continued legal guardianship even after she turned 18. Over the years, Joe's decisions have led to an increasingly restricted life for Jessica. She's not allowed to leave the house. She's not permitted to go to medical or psychiatric appointments. Joe has also repeatedly refused support from the disability service system. In addition, he is emotionally and financially abusive.
Although there are a number of government service entities that are designed to protect at-risk individuals like Jessica, in her specific situation, each of these agencies is bound by regulations that don't allow them to intervene because, as her guardian, Joe has the sole authority to make decisions about her daily life. Although guardianship is necessary for some adults with disabilities, in Jessica's case, the guardianship was used to strip her of autonomy and deny her right to live a self-determined life.
After years of falling through gaps in the public safety net, Jessica finally found The Arc. Fortunately, as a private nonprofit organization, The Arc isn't bound by the same regulations that inadvertently limit public agencies from being able to help resolve the situation.
As it turns out, The Arc was the only organization in Jessica's life with the freedom to intervene on her behalf. Over the last several months, Jessica's advocate has been steadfastly working with her to begin unravelling this complicated situation.
Above all else it was imperative that Jessica's right to act on her own behalf be restored, so The Arc has supported her through the legal process of terminating Joe's guardianship. As part of this, our advocate requested the appointment of a guardian ad litem (GAL) who could legally act for Jessica, regardless of whether or not Joe was in agreement with the action. Within days of the GAL's involvement, Jessica was able to access emergency respite care outside of her home.   
With The Arc's support, Jessica has taken several critical steps toward independence from her father.  She's been able to see medical and psychiatric providers, as well as start the process of accessing services that will help her grow her independence. It's a great start, and The Arc will be there to provide Jessica ongoing assistance from her advocate to realize her dream of one day living on her own.
If you suspect someone with a disability is being abused or mistreated, always report your concerns to law enforcement for investigation.
*name and details have been changed for confidentiality