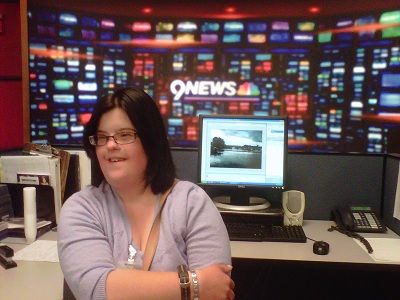 On July 11, a very rainy day, Louise and I went down to meet Kathy Sabine at Channel 9 News. We had the time of our lives. It was so fun. We did a tour. We saw weather screens, Kathy's desk and her healthy food she brings to work. Kathy said, "Sorry no doughnuts – the camera makes them look bad on me". We also met her TV personalities and coworkers: Ashton, Kurt, Kim, Mark, Amelia, Adele, Drew and the camera man Steve. Everyone was so friendly. We did not see Bazi, Marty or Steve S., who are also some of my favorites.
We saw the reception area and the newsroom where everyone sits in cubicles in a large room so they can talk to each other. All the action seemed to be in the middle. This was during the hours that Denver was on national news because of the severe storms and the flooding all around town, so it was very exciting. We also saw the 9News backyard in the rain and the actual news studio where we sat for 2 newscasts. After the newscast we were able to sit with the anchors at the TV desk that you see when you watch the news and get our pictures taken. We also saw the control room.
While we were with Kathy we sat at her desk and she showed us the pictures of her beautiful family. She allowed me to interview her and watch her talk for KOA radio. We also watched her broadcast the breaking weather news from her second desk, outside of the newsroom and the 9News backyard. Kathy is sweet, very sweet, outgoing, and very tall; she says everyone is surprised at how tall she is. I think she may be even the tallest person on staff. She said she started 18 years ago. She went to college to study meteorology. She is most proud of her Emmy awards for weather broadcasting. She loves her work and her 9News family, a term they call one another because of the respect which is so noticeable to anyone walking in. Kathy has an intern named Ashley, much like how Kathy got started in the business.
Kathy lives in Parker and has 2 big horses which she likes to ride. She says she loves the long drive to work and she is truly a country gal. I enjoyed visiting her; her warmth made it feel like we were old friends.For the 2 hours I was there, it felt like a long-term dream to me.