(last update 5/15 12P)
We made it! Race weekend is just days away, and over both days we are expecting roughly 140 people to take to the streets of Denver wearing all of their bright orange Achievement Challenge gear! And about 3,000 - 5,000 other people... 
Thanks to each of you for being part of our team and making this our most successful event ever! Together we will challenge perceptions and create new opportunities for people with disabilities.  
Pay attention to the weather!
When we first wrote this three days ago, it was supposed to be a high in the upper 70s and afternoon rain. Now it's suggesting lots of rain, but we still have 4 days so it could change again. It could still be chilly when you arrive with the wind coming off the lake, and even more so if it's rainy. Come prepared and dress in layers!
Our team shirts are designed to keep you cool on a hot day, but you may want to wear a long sleeve shirt underneath it earlier in the morning. 
If the forecast changes significantly, we will update this page. You never know, last year we had snow the night before. Fingers crossed for a temperate morning this year!
Accessibility Answers
While our presence has improved the race's accessibility, it still take some planning and preparation to make it successful for everyone. 
If someone in your group was registered as an athlete with a disability, you should have received an email from the race's disability liaison (Kelly Powers). In addition to that email, after several conversations with Kelly, we have drafted the maps below to help you easily plan your morning. 
Accessible Parking
Different from previous years, there are NO PARKING PASSES for Saturday's race. Instead, plan to arrive early and park wherever you can, ideally on the east end of the zoo parking lot. Please review all maps at the bottom of this page to make sure you understand where you are headed. 
Drop-Offs, Access-A-Ride & Shuttle Pick-Ups
Access-A-Ride & Other Drop-Offs. People arriving by Access-A-Ride or those with limited mobility should be dropped off on the west side of the Denver Museum of Nature & Science (2001 Colorado Blvd), at the lot behind the building near the garage elevators. There is usually a fairly clear paved and gravel pathway that will get you very close to The Arc's tent (see photo below). For pickups, Access-A-Ride will not be able to get back to this location until after the last runner at 11:15, although they can pick up at other points outside the park.
Shuttle Pick-Ups. The race organizers are providing a 4-seat golf cart to shuttle athletes with disabilities to their team tents. There is a map below marking the two pickup points. One is at the entrance to DMNS parking lot, and the other at the very east end of the zoo parking lot. The golf card will be marked as being for Athletes with Disabilities, but you may still have to wave to let them know you need assistance.
Please call or text us at (720) 924-2333 if you need assistance getting to our tent. 
Accessible Restrooms
We will have an accessible port-a-pottie near the AWD Tent (see below). This toilet will be locked so we can limit its use to athletes with disabilities. The code will be available at the AWD Tent in Charity Partner Village.
Help us Fundraise for Advocacy!
We have just a few more days to raise critical funds for The Arc. All dollars raised support free, life-changing advocacy for people with disabilities and their families. And new this year, we have an anonymous donor who has agreed to match all donations up to $5,000 dollar-for-dollar. So when you give a dollar, it turns into two. 
We need your help!  Here's what you can do: 
Donate to an existing fundraiser - go to www.crowdrise.com/achievementchallenge and click on The Team (under the tweet button) to see all of our fundraisers. 
You can easily share our team page on your own Twitters or Facebook. For best results, include a note about why you care about The Arc and ask people to make a donation in your honor. 
Click Join the Team to build a fundraising page of your own. It just takes a couple of minutes (and we're happy to help you do it!)
Send a quick email to your friends and family asking them to donate in your honor. You can use your own link or  www.crowdrise.com/achievementchallenge. 
We have seen time and again how these requests by email and on social media make a big impact -- you will be surprised by the support you receive from your friends and family!
Be sure to thank our sponsors!
We're excited to have the support of PASCO and All for Kids Home Health! With their support, we are able to provide the awesome team shirts and drawstring bags free of charge. Representatives from both companies will be with us on Saturday (Andrea will be on the course). 
New this year, we also welcome 98Beans and Trumpet Behavioral Health to our sponsor family. 
Please be sure to let them know you appreciate their support!
You can probably skip the Expo
Many of you got an email today telling you that you have to go to the Expo. You probably don't. The race organizers are allowing our team to skip the packet pickup at the expo! If you registered on or before Wednesday, May 16, we will have your bibs and race shirts waiting for you at The Arc's team tent on Saturday morning.
If you were registered on or after Thursday, May 17, you will need to pick up your bib and packet at the Expo or arrive early to pick up at race registration on Saturday morning.
Meet at The Arc's Tent by 7:30 AM (and prepare for a quick change!)
The Arc will once again have a tent at Charity Partners Village, located in the greenspace west of the Museum of Nature in Science. Our tent will be in Pod B . Just look for the swarm of people in orange. We will also have sparkly gold tinsel hanging from our tent to make it easier to find. Please see map below for tent location and route from parking areas. 
You will need to arrive early to get your group suited up in time team photos at 8:15 AM.  Please note: There is not a private area for changing into team shirts. Some people layer their shirts, some people change in the port-a-potties, some people get creative with blankets and human shields. 
The Arc staff will arrive by 6:30 AM and begin distributing shirts and bibs at 7:00 AM. No matter what, everyone needs to meet at the tent by 7:30 AM. You can arrive as early as you would like, since parking will be easier the earlier you arrive. With such a large team, it's going to take some time to get everyone geared up, plus we have lots of silly accessories to make you stand out in the crowd!
Team Photo at 8:15 AM
This will be the tricky part. We will have roughly 20 minutes to get 115 people assembled for our various team photos. As soon as that is done, we will all walk to the starting line together.
But take your own pix too!
Although our photographer will be taking many "official" photos of our participants before, during, and after the race, we want to see your selfies, too!
If you take any photos, please email them to genni@arcjc.org or upload them to Facebook and tag The Arc. (If you have any trouble uploading from your device, find Courtney and she will help.)
Race Starts at 9 AM
This isn't the kind of thing where you can walk up at 8:57. Again, we will meet at tent at 7:30 for bibs and shirts, and then team photos at 8:15, and then we will all walk to the starting line together for the family wave of the race.  Although there is a separate starting time for Athletes with Disabilities, we are planning to have all of our racers start together with the Achievement Challenge team as part of the family wave, which will increase our visibility. 
As we will have someone at the tent at all times, all racers are welcome to leave bags and personal items in our tent while you race.
Contacting Us on Race Day
If you need to reach us at any point on race day, please call or text (720) 924-2333. 
Race Day Timeline 
6:30 AM: The Arc arrives 
7:30 AM: Check-in for Shirts & Bibs
8:15 AM: Team photo!
8:45 AM: Head over to new starting line
9:00 AM: Race begins
11:00 AM: Race ends
City Park Maps
Please check out these maps and contact Eryn at (303) 232-1338 during normal business hours (not Saturday!) if you have any questions. Just look for people in orange! There is a path from the elevators at DMNS that will be easiest for people using wheelchairs that is marked below. Please note there will still be some trekking through grassy areas. 
Overview of Race Area
General overview of tent area (Charity Partners Village), pick-up and drop-off locations, and east zoo parking lots.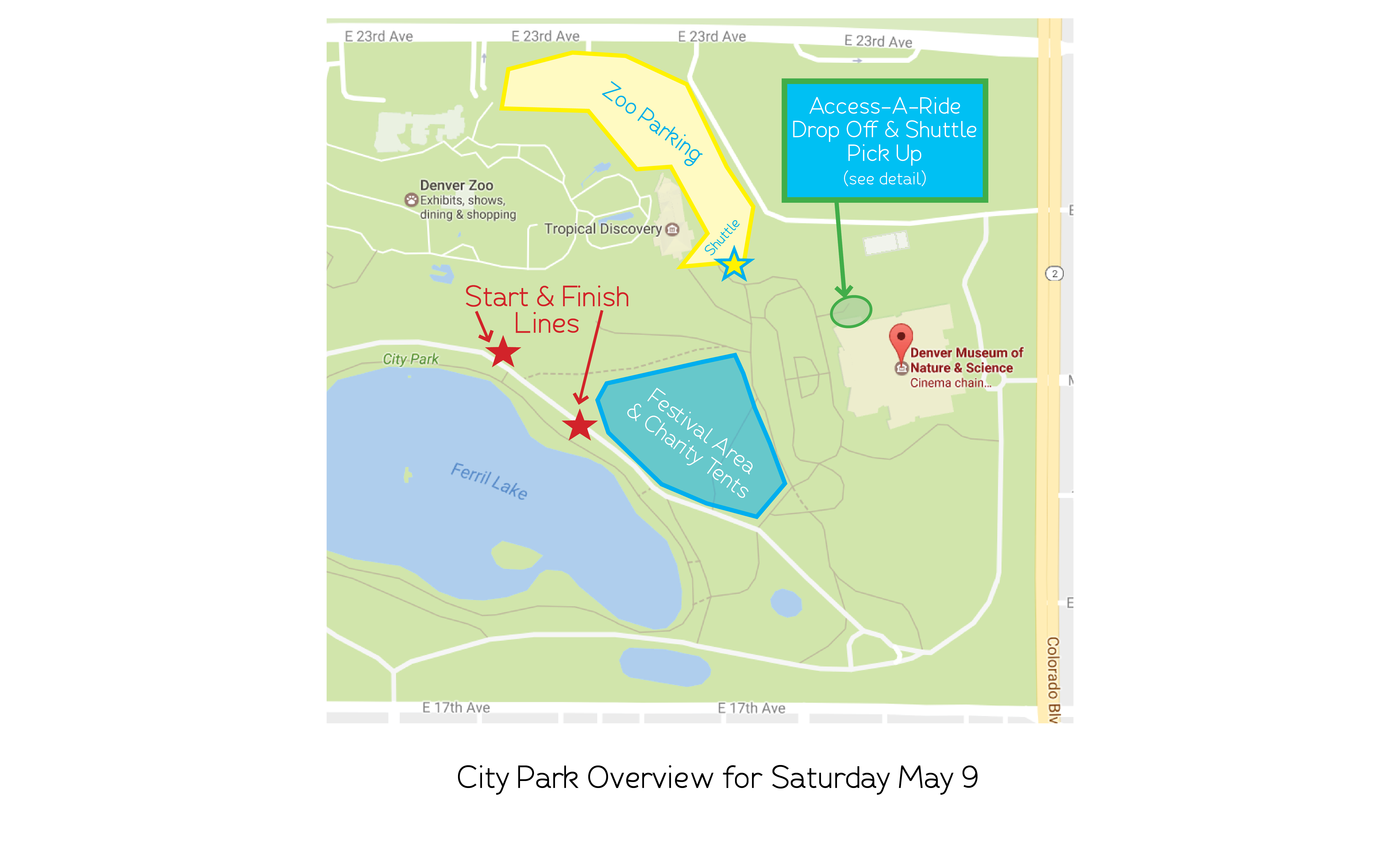 Overview of Key Locations
The Arc's tent, our meeting place, is the gold start in the middle. The starting line is on the far left. The finish line is close to the athletes with disabilities (AWD) tent on the bottom right. The two black stars near Gear Check indicate a break in the fencing for people to enter the festival area. You'll want to turn off the path near the Boyer's coffee station and look for people in orange shirts. Note that it will take some time to walk from The Arc's tent to the starting line after our photos.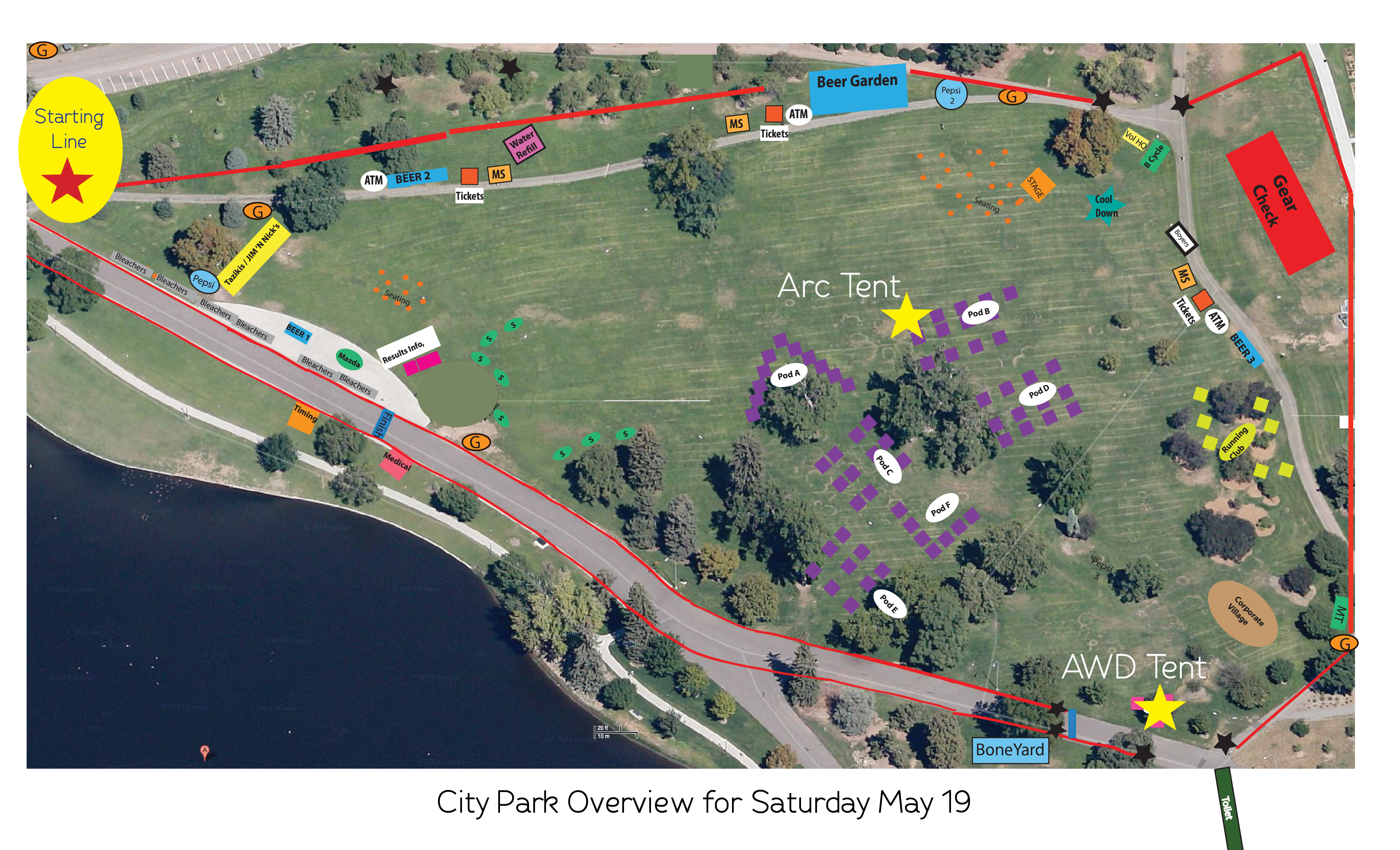 Pick-Up & Drop-Off Detail Map
The two stars in the middle are where people can be picked up by the athlete with disabilities golf cart for a ride to The Arc's tent. The golf carts are not wheelchair accessible. The star on the lower right shows you where people taking Access-A-Ride should be dropped off. Please note the east zoo parking lots on the top left.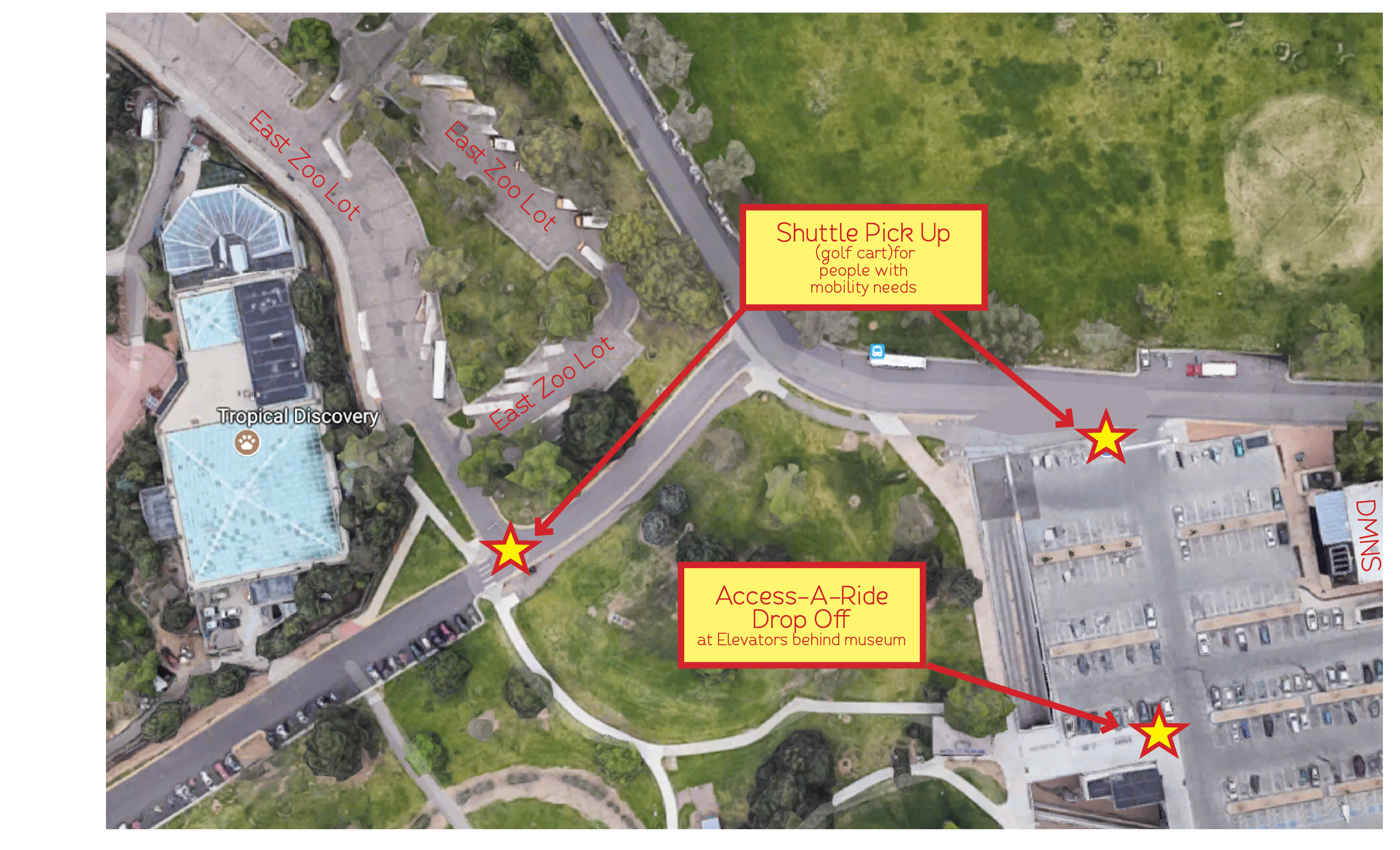 Getting to The Arc's Tent
The yellow paths are the best routes to access our tent from the drop-off locations and the zoo parking lot.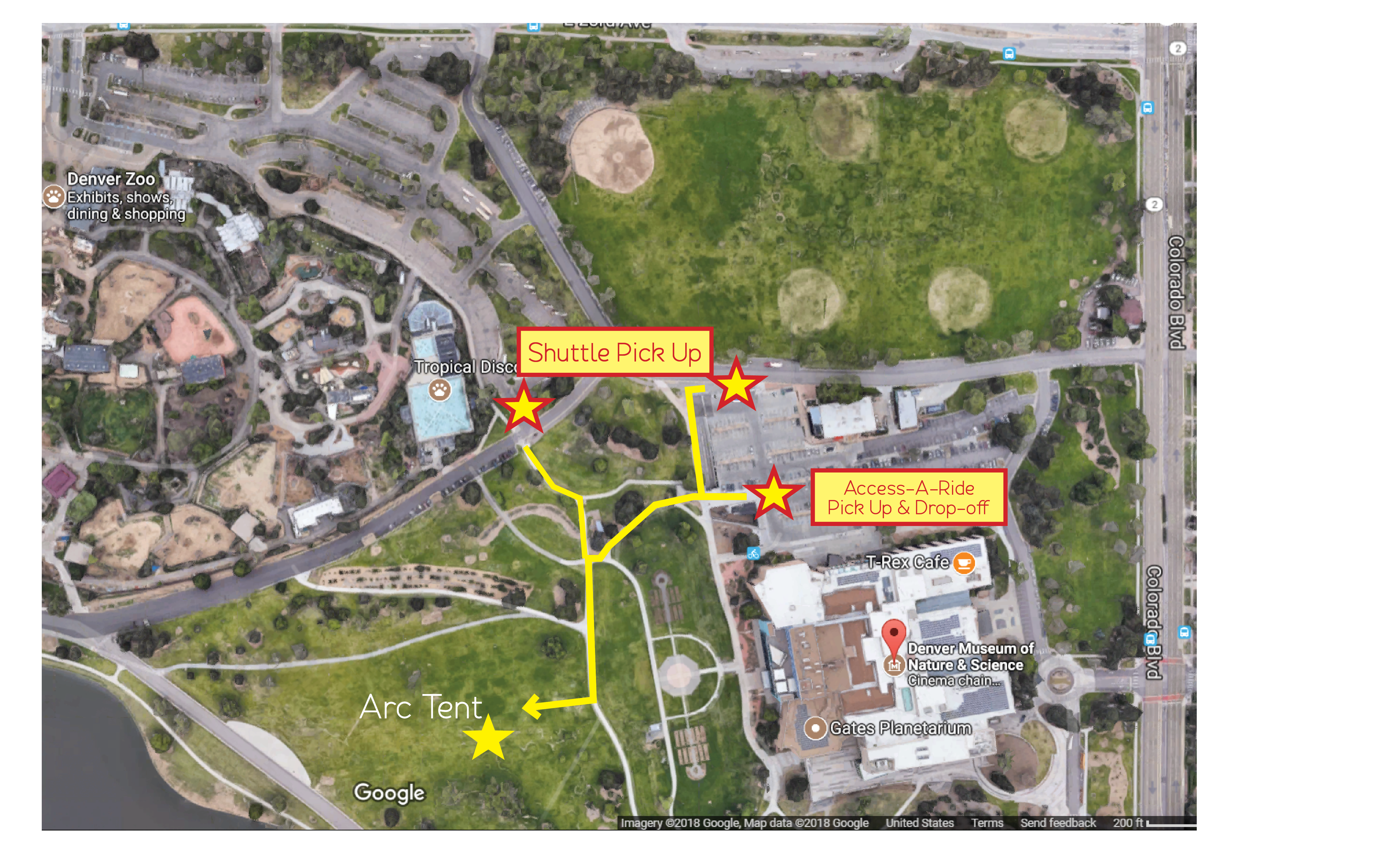 ---
Thanks to our Achievement Challenge Sponsors!