BOARD NOMINATIONS ACCEPTED THROUGH APRIL 21!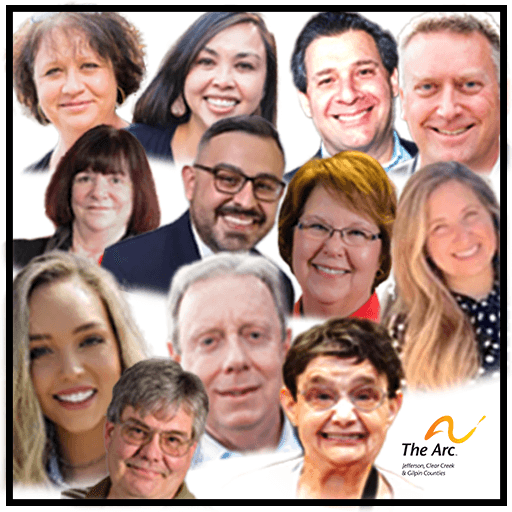 Don't miss your chance to lead and make positive change in our community. Join our Board of Directors - apply today!
The nomination deadline has been extended to April 21, 2023
If you have a desire to be a part of a vibrant organization dedicated to serving people with IDD and their families, this is your chance!
If you support our Strategic Plan (click here) and believe you can and want to contribute to fulfilling these goals, this is your chance!
If your values align with ours - including our chapter-specific values of People First and Visionary Leadership - then this is your chance to put them into action!
---
Service on The Arc's Board of Directors
Are you interested in serving on The Arc's Board of Directors? The experience is rewarding and fun!
All interested individuals who have a passion for The Arc's mission are encouraged to submit a nomination form. Individuals who can look at policies and practices through an equity, diversity and inclusion (EDI) lens are especially encouraged to apply.
In addition to what's above, we'd love to hear from people with the knowledge in, connections to, or experience with:
Healthcare and Behavioral Healthcare (clinician experience not required)
Media, Marketing, and PR
Community and Donor Relations
This is an opportunity to join a group of likeminded people, with differing backgrounds and experiences, who make real a difference in the lives of the people The Arc serves.
Join us!
For information on Board Member responsibilities, read our Board of Directors Prospectus by clicking here.
To review and fill out a Board Service Interest form, click here.
If you have questions or would like to talk with someone about the opportunity, contact Board President Caryn Quinkert at (303) 915-1945 or Executive Director Lori Ropa at (303) 232-1338 or lori@arcjc.org.
Nominations Process
To apply for yourself or nominate someone else, please complete the Board Service Interest Form and return it by email to info@arcjc.org. You may also fax to (303) 232-9370 or mail it to The Arc's office at 13949 West Colfax Avenue, Suite 102, Lakewood, CO 80401. The deadline to return the form is April 21, 2023.
A Governance Committee member will contact candidates for interviews and discuss what it means to serve on The Arc's Board. Following the interviews, the Governance Committee will make recommendations to the Board regarding which candidates will stand for election. The nominees will be voted on by the Membership at The Arc's Annual Meeting in June.
Links in this post:
Strategic Plan: https://www.arcjc.org/file_download/c78ec90a-f40e-4abf-a3aa-dcd261d32304
Board Service Form: https://www.arcjc.org/file_download/a3a5c652-e3fa-4832-ba17-e07b3012c421
Board Prospectus: https://www.arcjc.org/file_download/a65dc967-9fd9-49ce-80f2-4f20b79e2679