Self-Advocate Donna Gunnison Speaks at 2018 Women's March
---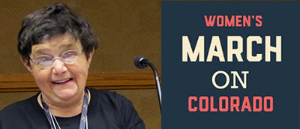 ---
Roughly 100,000 people gathered in the bright Denver sunshine to participate in the Women's March and Rally January 20th, 2018. People from all walks of life came together to promote social justice, human rights, and equality for women and all marginalized people across our nation. This year, the Rally included speeches by everyday women with the theme of Hear My Truth, and a new voice was included—the one belonging to Donna Gunnison.
Donna is a board member of The Arc – Jefferson, Clear Creek & Gilpin Counties, and an active self-advocate who promotes awareness of the gifts and challenges of people with intellectual and developmental disabilities. She was one of the first speakers at the Rally after the March to share her truth: that too often people try to silence her voice. After getting everyone laughing, Donna spoke about how she has felt misunderstood, dismissed, and even silenced her whole life. She talked about working to overcome her challenges, and how everyone has different challenges, which ultimately unites us all.
No matter her frustrations, or what people say or do, Donna just keeps going. Through this perseverance and by being invited to speak at the Women's March, Donna has found that her voice DOES matter! She confidently declared this to the audience, followed by an eruption of cheers and applause from so many listening intently to her words. Explore this page to see (or read) Donna's unforgettable speech, as well as news coverage of Donna before the March.
Read the pre-event press release

DENVER (January 11, 2018) – Over 100,000 people are expected to join the Women's March in Denver's Civic Center Park on Saturday, January 20. The March is about solidarity for social justice, human rights, and equality for women and all marginalized people nationwide. It is a time to demonstrate the power of women's voices.

Lending her voice and her story to the March will be Donna Gunnison, a board member of The Arc – Jefferson, Clear Creek & Gilpin Counties. Gunnison is one of the FIRST and ONLY people with an intellectual and developmental disability invited to speak at a Women's March anywhere in the country.

(It was reported that 45,000 people with disabilities ATTENDED the March last year in D.C., but the event did not feature a speaker with IDD.)

The theme of this year's March and the Rally is "Hear My Truth," and Donna has quite a story to tell. Donna was born with Prader Willi Syndrome, a complex genetic disorder affecting appetite, growth, metabolism, cognitive function, and behavior. All of her life she has struggled with inclusion and acceptance.

"I am honored and excited to be a part of the Women's March," Gunnison said. "Everyone deserves the right to be heard and everyone has something to contribute to our community."

If you would like to speak to Gunnison before, during, or after the March, please contact Valerie Smith at (303) 232-1338 or by email at valerie@arcjc.org.

For information about the March go to www.marchoncolorado.org.
---
Your donations support self-advocates like Donna