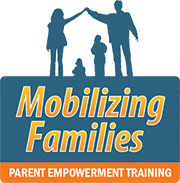 Parenting a child with special needs can be overwhelming.
We get it. Let us help. 
The Arc's award-winning Mobilizing Families training will help you unlock the mystery of disability resources by giving you the tools and information to help your child thrive. 
Participants will receive 12 hours of training split into easily manageable two-hour sessions each week. These classes that will build your skills and confidence, empowering you to effectively advocate for your children in all aspects of life. Each series includes an in-depth look at special education, healthcare, insurance, community resources, and so much more!
Parenting is hard enough already. You shouldn't have to struggle to find answers you can trust. That's why – through the support of The Daniels Fund – we are offering this amazing resource at no cost. That's right, it's really FREE:
FREE training materials
FREE childcare for all of your children
FREE dinner for your family
What are you waiting for? 
Our next series starts Thursday, February 15.
---
"Mobilizing Families was the best thing we could have done for ourselves and my son.  It was so refreshing to be around educated advocates and other parents who actually understood the things we were going through as a family."  JOSH, 2008 Graduate
---
REGISTRATION
WHEN: Thursday evenings beginning February 15, 2018 and ending March 22, 2018.
6:00 PM -  Check-In and Dinner
6:30 - 8:30 PM - Training
WHERE: The Arc - Jefferson, Clear Creek & Gilpin Counties, 13949 W. Colfax Ave, Bldg 1, Ste 150, Lakewood, CO 80228. Get directions. 
BRING: Nothing except your family! We provide all training materials. 
COST: None
The Spring 2018 training is almost at max capacity! If you're interested in joining please call Genni at (303) 232-1338 to see if space is available. 
---
Need help now?
If you need help immediate assistance, The Arc's education and family advocates can provide individual support by calling (303) 232-1338. As this, too, is a free service we provide for families, please keep in mind that it can take up to three business days for your call to be returned. 
For more information on education and family advocacy, click here