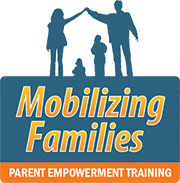 When you find out your child has a disability, your parenting journey veers off in an entirely new direction.
Thankfully, The Arc's Mobilizing Families training can help you regain your footing.
For typically-developing children, all parents have ready access to a variety of research, resources, information and the experience of other parents to draw upon to meet parenting challenges.
But when a child has special needs, finding meaningful support and guidance takes some extra work. For new parents, we hear over and over that two things are critically important:
Access to reliable, trustworthy information and resources; and
Access to a community of parents who have been there before.
The Arc's award-winning Mobilizing Families training will fulfill both of these needs and give you so much more.
Since 1991, this thoughtfully-designed six-week course has empowered more than a thousand families to become effective advocates for their child. And while you might be thinking this is too good to be true, it gets better: The entire class – complete with family dinner and child care – is completely free of charge, thanks to our funding partners.
---
The next Mobilizing Families begins Thursday, September 28. To register, please send your name, email address, and phone number to Courtney@arcjc.org.
If you need help immediate assistance, The Arc's education and family advocates can provide individual support by calling (303) 232-1338. As this, too, is a free service we provide for families, please keep in mind that it can take up to three business days for your call to be returned. 
For more information on education and family advocacy, click here